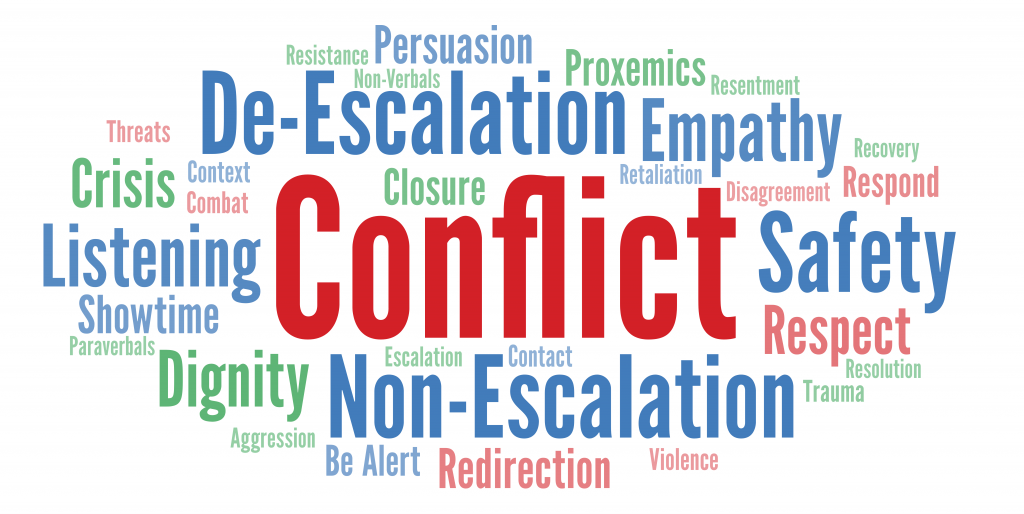 Description
Become authorized to teach our foundational conflict management training program within your organization
Time: four, four-hour sessions — plus out-of-class time — (see complete schedule below)
Format: virtual instructor-led with activities and additional interactions between sessions
Class Size Limit: 10 participants
Language: English
Price: $2,997 (see special pricing below)
At work, at home, and with your friends, you notice others' frustration and angst with dealing with difficult people and feeling emotionally and physically unsafe.
Inside of you, there is a passion and skill to help.  You have a gift for teaching others how to deal with life's challenges.  You are ready and interested in being an authorized instructor for the Vistelar Non-Escalation, De-Escalation, and Crisis Management training program.
Over the years, we have heard the paralyzing stories of people being burdened, exhausted, and ravaged by difficult people and troubling situations. These stories reference such experiences as:
Disagreements and misunderstandings
Arguments and fights
Questioning and resistance
Blatant refusals
Shouting, anger, and ranting
Emotional abuse
Frightening at-risk behaviors
Risk of Personal Harm
… and even violence, injury, and death
————————————————
Who Is Vistelar
Due to our research and real-world experience over the last 30 years, we've become experts on preventing and managing conflict.
Our primary business is helping organizations build safe and respectful environments via training and consulting that addresses the entire spectrum of human conflict. 
We work with organizations in such disciplines as healthcare, security, education, behavioral health, home-visitation, public safety, transit, social services, retail, hospitality, and customer service.
For example, we are the exclusive conflict management training provider for the National Retail Federation, International Association of Campus Public Safety Administrators, and International Parking and Mobility Institute. In addition, our de-escalation training is certified by such organizations as the International Association of Directors of Law Enforcement Standards and Training.
You can learn more about us at http://www.vistelar.com.
————————————————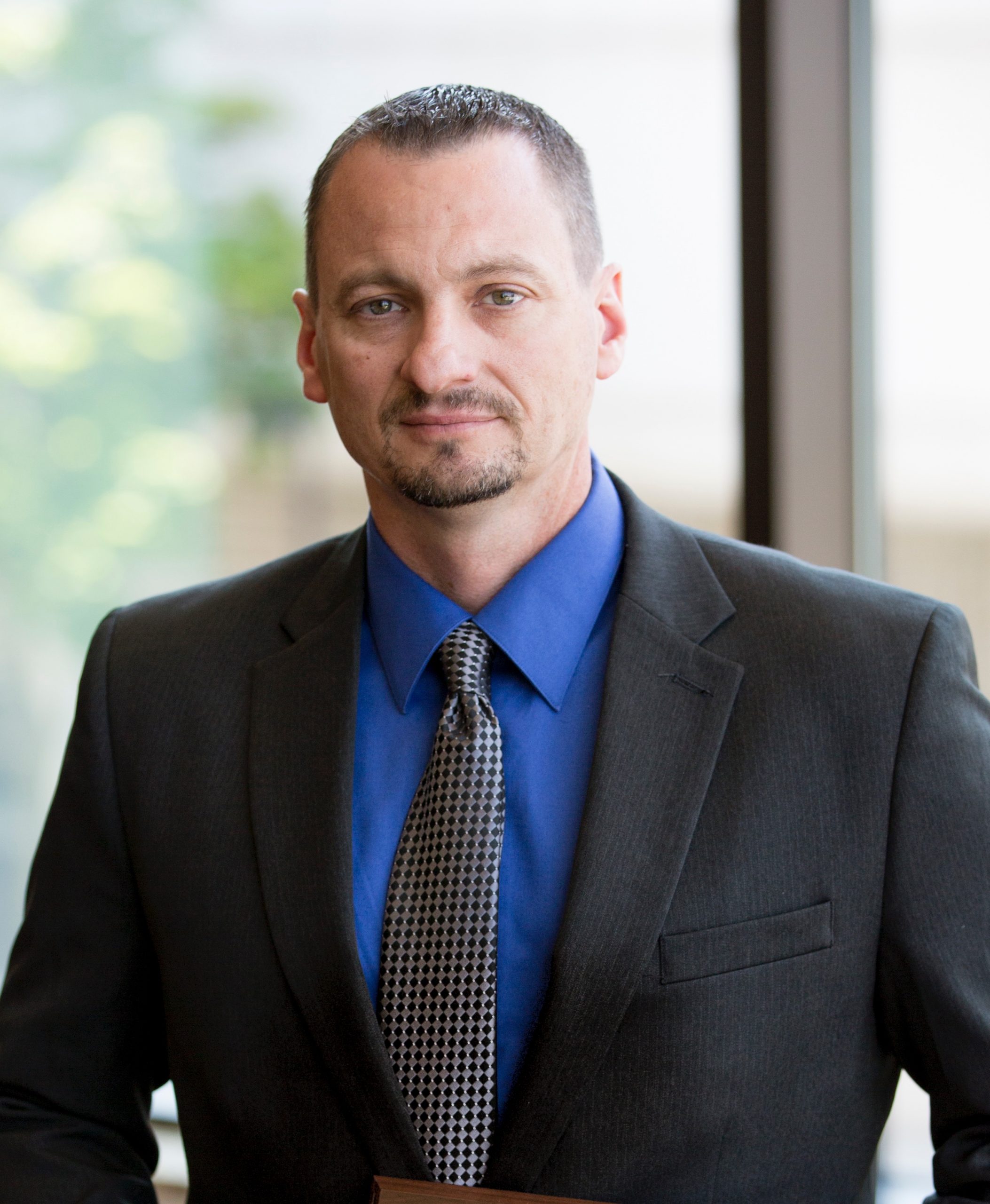 We wanted to provide our officers with next level non-escalation/de-escalation training and we found it with Vistelar. Not only have we trained our department, but we have started to form partnerships throughout our community and combine training as well. We are definitely pleased with Vistelar and their training programs.
Lieutenant Michael J Blaser Jr.
Janesville Police Department
What You Will Learn
The goal of this course is to prepare participants to be able to confidently and competently provide instruction on the Vistelar proven methods to help others address the challenges of dealing with conflict and crisis. 
You will learn how to teach, guide learning, and provide valuable feedback and insight on how to:
recognize difficult behaviors that may compromise safety

engage with others in ways to maximize safety without making things worse

resolve disagreement and refusal and generate cooperation

de-escalate verbal confrontations and crisis situations

stay safe and promote recovery in dealing with people with mental health issues, 

end interactions better than as they started and with a positive foundation for future contact

recognize when verbal methods have failed and it is necessary to take further action—and know what actions to take
Benefits
Here are just a few of the benefits of this training—for yourself and those you teach—that we've heard from our clients over the years:

Increased physical, organizational, legal, and emotional safety ("P.O.L.E. safety")

More confidence in dealing with difficult people

Less stress and improved work performance




Better personal relations at work and home
Unified Conflict Management Training System
In signing up for this course, you should be aware that this is just one course in the Vistelar Unified Conflict Management System, which has the following attributes:

Based on the Vistelar

6 C's of Conflict Management

™ framework

Employs consistent principles, methods, and terminology across all training programs

Uses a systemized structure of methods/tactics represented by straightforward graphics

Emphasizes simplicity and universal application across all methods/tactics taught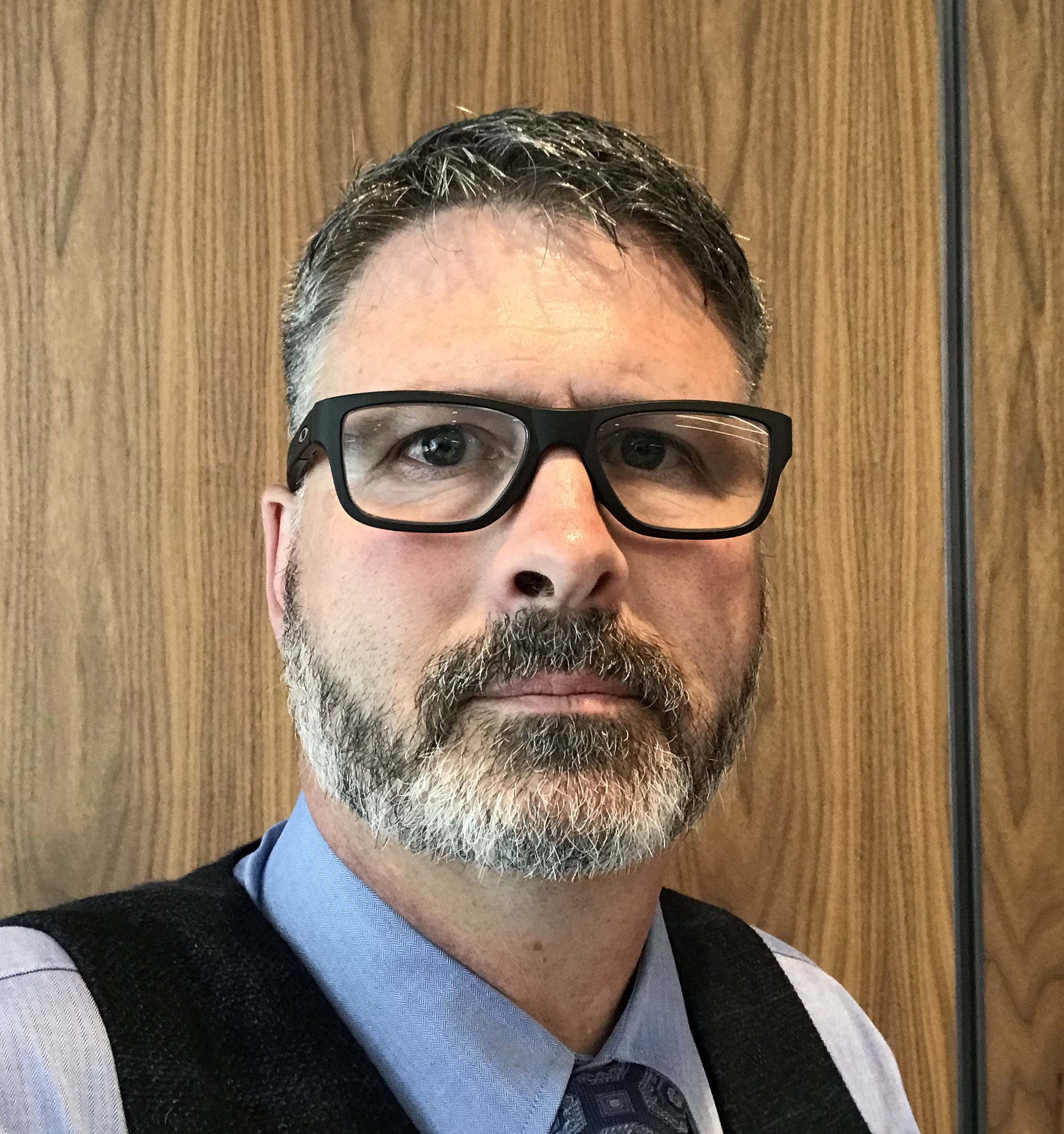 What I like most about the Vistelar training program is it is different from the ground up than most other training programs. Instead of simply telling learners to "Set Limits," it helps them learn how to communicate limits effectively with usable scripts. Next, the program offers better defensive and physical management strategies. Oftentimes, training programs will offer "safe" training on how to defend oneself or how to regain physical control of a person acting out in crisis. This training is "safe" in that it limits the realism to hide the fact that it would not be successful if needed in a real-world environment with a real person acting out. Vistelar is different. It's training is easy to follow and gives the participants real options for both their personal safety AND that of the person in crisis. It's just better!!
Bob Durand | CPP, CHEP, HEM, CHSS
Vice President, Security Training & Compliance
Blackstone Consulting, Inc.
Course Format
Preventing and managing conflict is NOT a "knowledge-based" skill. Reading a book or sitting through a lecture about conflict management will NOT lead to the benefits listed above. Conflict management is a psychomotor skill. Therefore, our instructor course is not about just learning how to present content via a traditional training approach (i.e., sit in a class while the instructors drone through dozens of presentation slides).
Instead, we take a unique approach that uses empirical-research-based training methods that are proven to create relatively permanent changes in your student's behavior that result in the benefits you are seeking within your organization.
These methods include:
Using scenarios to unpack the approaches, methods, and strategies

Frequent participant and instructor feedback for just-in-time learning

Clear objectives, rubrics, and success criteria so that instructors know what high-quality instruction looks like, sounds like, and feels like

Personal participant reflection and critique for personal growth as an instructor

Partnership with other world-class instructors to grow and refine your talents

Interactive virtual synchronistic and asynchronistic strategies to enhance your instructional toolbox

Time to practice and complete assignments between training sessions to deepen your learning
To get good at these learnable skills, this practice during class and when you are back on the job is critical. When someone is in your face, just knowing what to do isn't sufficient to stay emotionally and physically safe. These skills must be practiced in real-life situations to be retained — just like learning a golf swing. Only then will they be available when needed.
We routinely hear stories from course participants about how they successfully applied what they learned immediately following their first training session and were still competently and confidently using the Vistelar conflict management methods years later.
When you take this course, your conflict management skills will get developed via a comprehensive training system that includes the following:
A private online portal at

VistelarAcademy.com

that will serve as your class cohort's hub for the duration of the course

An

Online On-Demand Course

that will provide you with a foundational understanding of the Vistelar conflict management principles and methods (requires about two hours of time to complete).

Four interactive four-hour

Virtual Training

sessions that include demonstrations, videos, class discussions, group work, Q&A, and designated time for practice (note: class size is limited).
These sessions will be led by two of our professional subject matter experts and recordings of these sessions will be available within your online class portal. During these sessions, you will have the opportunity to role-play conflict situations specific to your job to develop lasting skills in the methods taught.
Opportunity to digitally interact with the course instructors and other members of your cohort during and between training sessions.


Time to practice and complete assignments between training sessions to deepen your learning.

A downloadable certificate after the completion of the course.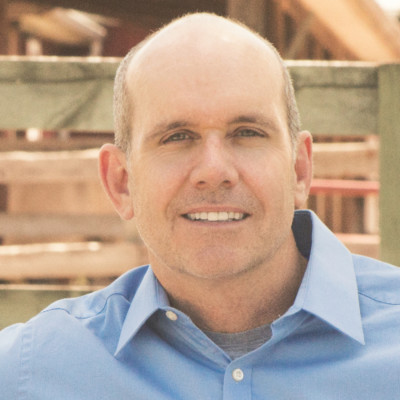 Vistelar was ahead of their time by including 'non-escalation' in the program; it's smarter and safer to prevent situations from needing de-escalation. Setting the stage for peaceful interactions from the start.....Brilliant!
Mike Mastaw
Learning and Development Professional
Things To Know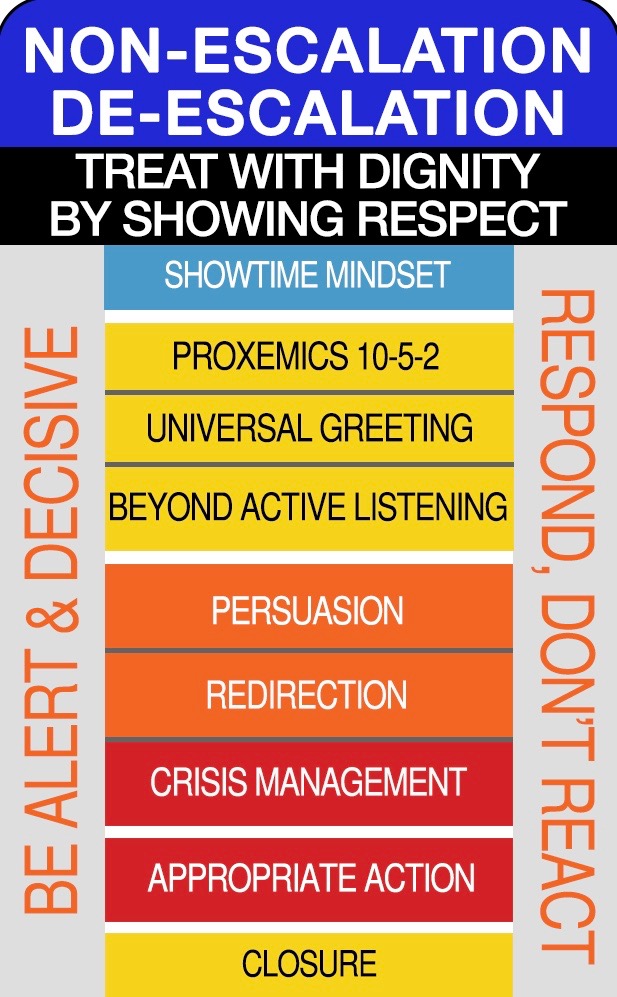 As an authorized instructor of the Vistelar Non-Escalation, De-Escalation, and Crisis Management training program, you have the ability to build a safe and respectful work environment within your organization.
This training will give you the knowledge, skills, and abilities to train others how to better manage conflict with the following results:
Increased team safety and reduced liability
Improved customer satisfaction and client outcomes
Increased team productivity and morale
Better interpersonal relationships
More breakthrough innovations
The normal price per person for this foundational training is $2,997.
For a limited time — this training is available at a $500 discount (this special price will appear upon checkout during the registration process).
Our past clients have told us they would have spent many times the price of this course to gain the reduced stress, increased safety, improved job performance, and better personal relations that result from this training.
Guarantee
As with all Vistelar courses, if you are dissatisfied with your training in any way, all you need to do is contact us and we will immediately process a full refund (and we will not ask you to return anything you have received from us).
Our goal is for you to have less stress, more confidence in dealing with conflict, increased safety, improved work performance, and better personal relations. If for some reason, we don't accomplish this goal, then we don't deserve your money and we will immediately return what you paid – no questions asked.
Logistics
When you register you will get immediate access to your cohort's online portal (to which you will retain access for a full year).
Here is the schedule for our May virtual training course:
First Session: Tuesday, May 18, from 11:00 AM Central Time (Milwaukee Time) to 3:00 PM CT
Second Session: Thursday, May 20, from 11:00 AM CT to 3:00 PM CT
Third Session: Tuesday, May 25, from 11:00 AM CT to 3:00 PM CT
Final Session: Thursday, May 27 from 11:00 AM CT to 3:00 PM CT
Here is the schedule for our May virtual training course:
First Session: Tuesday, July 13, from 11:00 AM Central Time (Milwaukee Time) to 3:00 PM CT
Second Session: Thursday, July 15, from 11:00 AM CT to 3:00 PM CT
Third Session: Tuesday, July 27, from 11:00 AM CT to 3:00 PM CT
Final Session: Thursday, July 29 from 11:00 AM CT to 3:00 PM CT
These sessions will be recorded with the recording accessible within your class portal at VistelarAcademy.com.
Between sessions, you will be expected to practice and demonstrate your knowledge, skills, and abilities so that the master trainers are able to provide you with valuable feedback and insight.  Your interactions with others in the class will contribute to the uniqueness and quality of your learning and training experience.
I used to become physically sick as a result of the toxic people I dealt with at work. Now, due to Vistelar's non-escalation methods, I experience less overall problems. When the inevitable conflict in my job does occur, the emotional impact is less due to the effective conflict management skills I learned from Vistelar.
Megan
Middle School Teacher, Wisconsin
Trainer Biographies
Joel Lashley
Joel is a conflict management trainer for Vistelar and the lead developer of the company's cognitive challenges programming. He has worked as a public safety professional in healthcare, social work, and behavioral health settings for over 30 years, including Advocate Aurora Health, Children's Hospital of Wisconsin, and Ascension Health. He is the author of the book, Confidence in Conflict for Healthcare Professionals (2015).
Joel has trained professionals in healthcare, education, law enforcement, social work, and behavioral health. He has provided consulting services to healthcare systems, school districts, police departments, and crisis management companies.
Debbie Zwicky
Debbie Zwicky is a conflict management trainer for Vistear and serves as the company's training logistics coordinator.  She has over 25 years of experience working with adolescents and their families in the city of Milwaukee in residential treatment/group care. She has extensive experience developing programs, supervising and training youth care workers, engaging with youth and families, developing policies/procedures, and collaborating with many community agencies regarding youth issues.
Debbie has been involved with trauma-informed care for many years and has worked as a trauma-informed coach for several state/county agencies.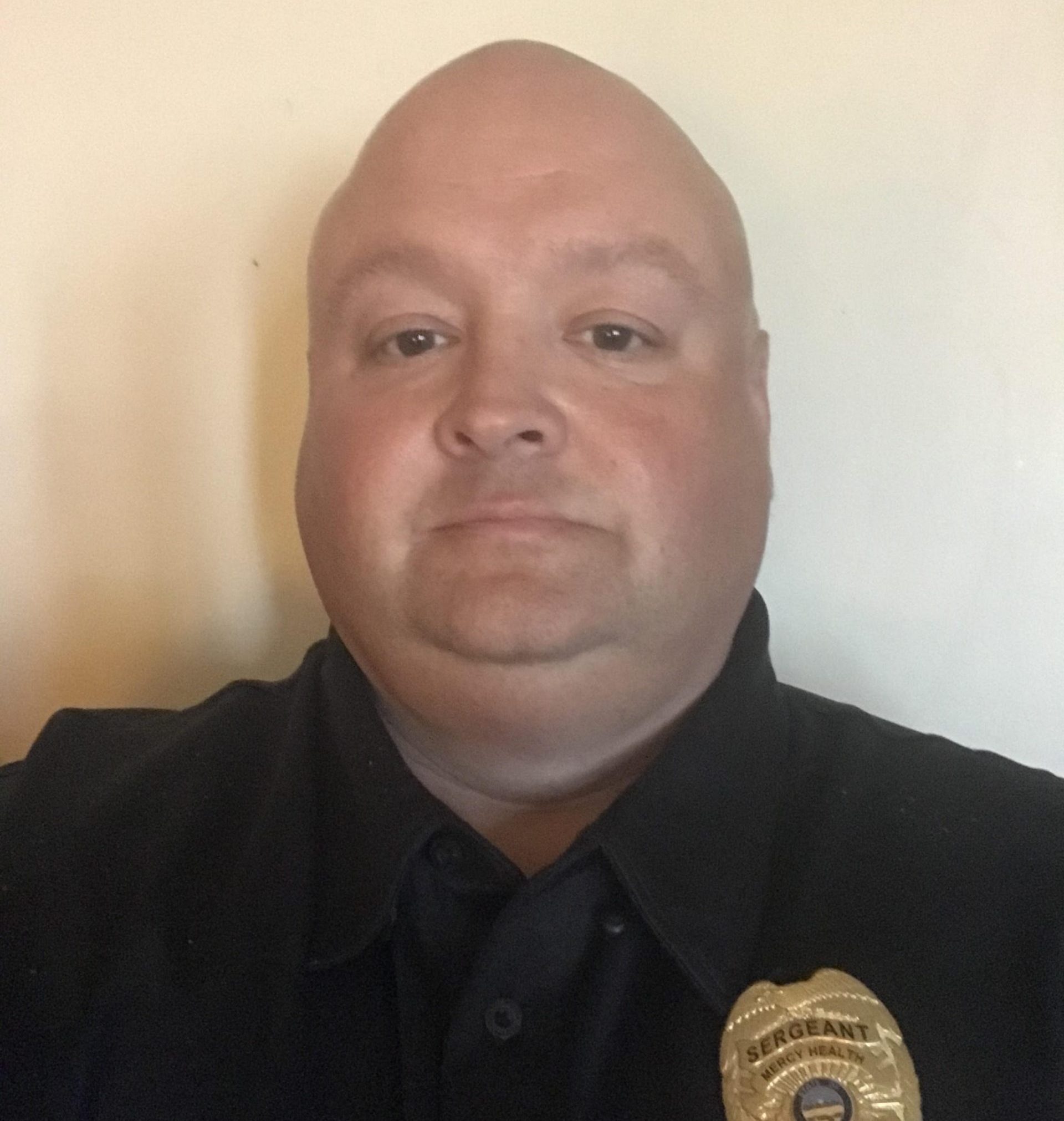 As a police officer for the last 20 years, I've attended many trainings, and I can say that Vistelar's training is extremely valuable. I along with my department need to be safe. We also must be Safe for the community we serve. Vistelar's training is the foundation to my safety and I truly believe in Treating People with Dignity by Showing Respect.
Patrick Campbell
Police Officer
Mercy Health, Ohio
How To Register
To register for this course, just click on a Register Now button.
Note that the discount pricing will only be available for a limited time. Also, to enable a high level of interaction both during and between the training sessions, the number of participants for this class is limited. Therefore, don't delay in signing up or you may miss out.
You will then get an email with instructions on how to log into the online portal for this class, which will house:
The online on-demand course that you must complete before the first virtual class session

Links to each of the four, four-hour virtual training sessions

Access to an online forum where the class instructors and participants can interact

Instructions for submitting your first assignment
————————-
BONUS: All participants will receive special pricing on any other Vistelar training program you attend anytime during the next two years.
We provide a wide range of training programs across the entire spectrum of human conflict via workshops and instructor schools using online, virtual, and in-person methods of instruction. Depending on the courses you take, this special pricing can save you hundreds or even thousands of dollars.
Note For Employers:
If members of your team have the knowledge, skills, and abilities to prevent, mitigate, and better manage conflict, the impact at the organizational level can be substantial. Here are just some of the many benefits we've heard from our clients. 
Enhanced customer satisfaction

Improved client outcomes

Decreased risk and liability

Protected reputation

Reduced lateral violence/bullying

Improved productivity and morale

Less absenteeism and turnover

Fewer workers compensation claims



Therefore, you may want to pay for your employees to attend this training. Alternatively, you can contact us to learn about customized training we provide to organizations.